When asked five questions about credit scores, the average American only answered two correctly.
The country's complex credit reporting system is not only unreachable for millionsit's also largely confusing – the typical American can't answer the majority of the five basic credit score questions correctly.
When asked five questions about credit scores, the average American only answered two correctly, according to a recent Zillow Population Science survey. And the struggle to understand credit rating was not limited to younger Americans who may have less experience building and using credit. Only a quarter (25%) of Gen Zers, the youngest generation, answered at least three questions correctly, the lowest of any generation surveyed. But less than half of Americans in the older Millennial (35%), Gen X (47%) and Baby Boomer/Silent Generation (41%) cohorts were able to answer at least three of the five questions correctly. credit.
The frequency with which respondents say they have checked their credit also seems to have little impact on knowledge. Regardless of whether they said they checked their credit extremely often, very often, quite often, not very often, or not at all, respondents got on average only two correct quiz answers.
Respondents were more likely to correctly identify that investments in the stock market are generally not factored into their scores (67% answered correctly). About half (47%) specifically said their credit score could affect their mortgage application until closing on a home. And only one in four could correctly rank the importance of payment history, amount of credit and length of credit history in calculating their score (26%).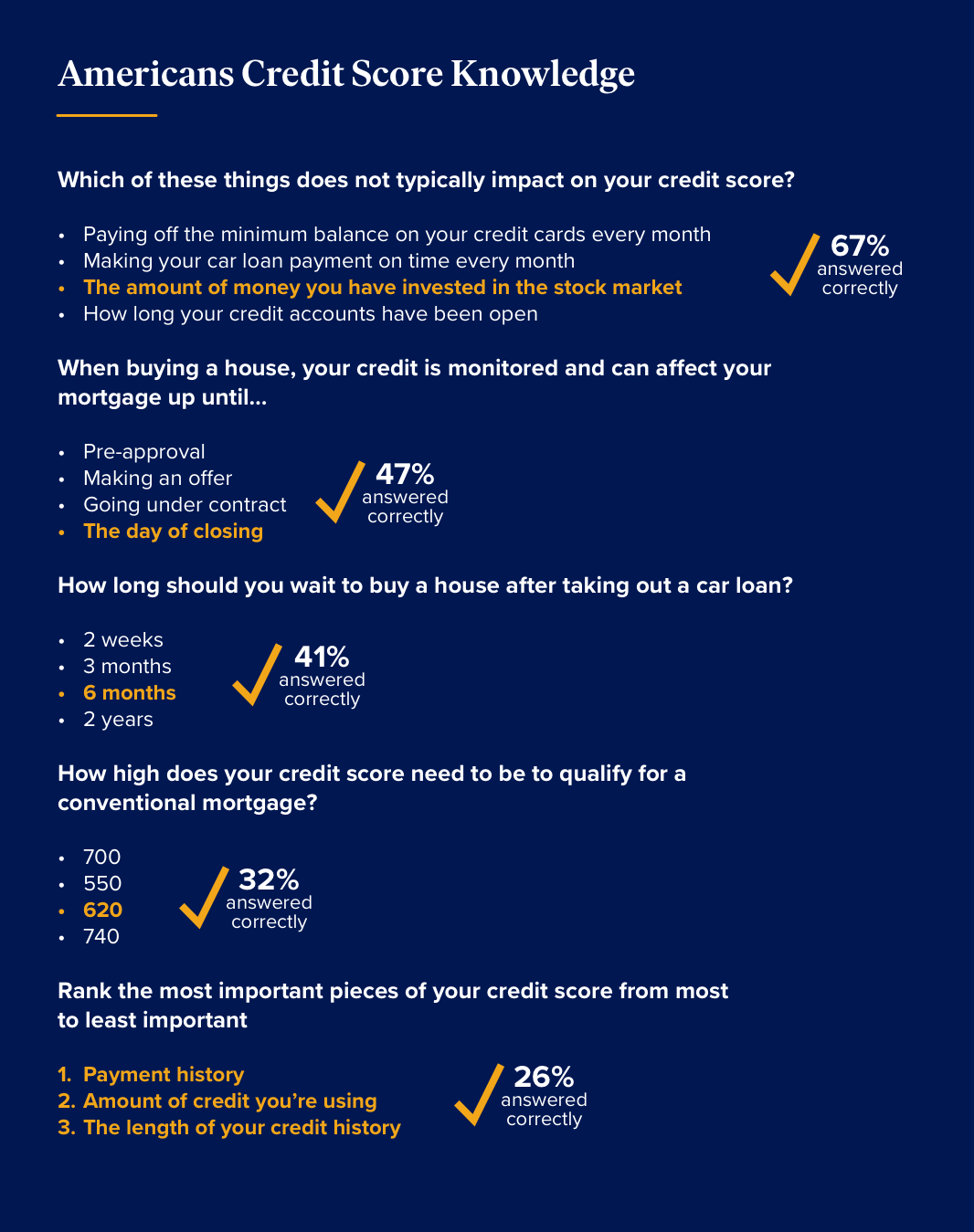 Methodology
Zillow Group Population Science collected a nationally representative sample of over 2,000 Americans. Conducted between February 11 and 19, 2021, the survey asked participants questions about their comfort and likelihood of adopting new technologies in home shopping. The survey also tested participants' knowledge of credit scores. To achieve national representativeness, quotas for age, education, gender, region, race, income, and marital status limited oversampling of a given demographic group. In addition to quotas, Zillow used statistical raking to weight the sample against the 2019 American Census Bureau American Community Survey adult sample.